Do You Desire A Transparent Makeup Look?
"Transparent Makeup" trend was born in South Korea a few years ago and slowly spread to the rest of Asia. Today, many beauty looks are still inspired by that trend. "Transparent makeup" means letting your natural skin texture peek through the makeup, aka using products that create a second-skin finish. Pores, scars, and skin texture are okay to be seen. As for discoloration and zits, they are all simply color-corrected to even out the pigmentation.
If you're looking for a way to make your makeup look transparent, tone up base can help. Lavender color tone up base combats dullness to create a beautiful, translucent skin tone. Today, we'd like to introduce you MAQuillAGE Dramatic Skin Sensor Base EX TONE UP UV+ SPF50+, which has a lavender color to correct dullness and sallowness for brighter-looking complexion. It absorbs sebum and sweat and not only prevents shine, but also moisturizes and prevents dryness.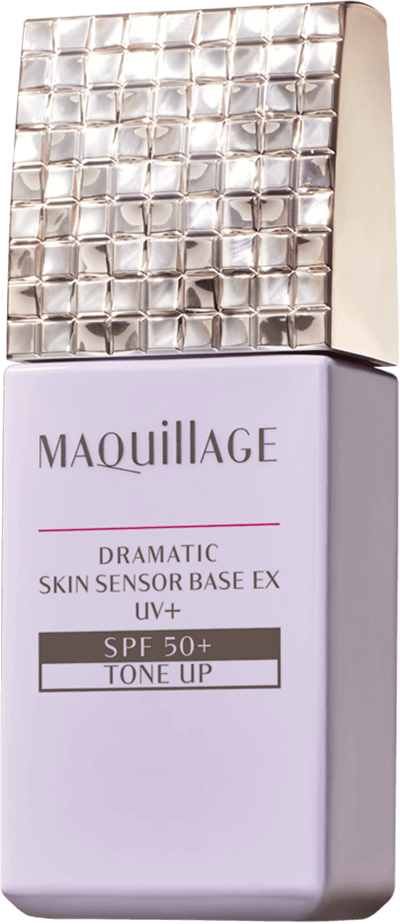 MAQuillAGE Dramatic Skin Sensor Base EX TONE UP UV+ SPF50+
A skin-sensing makeup primer that effortlessly glides onto skin to instantly brightens the complexion and reduce the appearance of enlarged pores, fine lines, and excess shine while staying crease-free and cake-free for 13 hours. This UV+ formula provides SPF50+ sun protection from harmful UVA/UVB rays.
3 Benefits of Skin Sensor Base EX TONE UP UV+ SPF50+
Prevents shine and dryness, gives you beautiful skin and brightens your skin tone with a lavender veil of light.


With the new "skin sensor" formula to give a balance of skin moisture and sebum, it gives you a long lasting performance for as long as 13 hours.


Good for your facial skin as it is make in Japan, contains no fragrance and passed most skin allergy tests.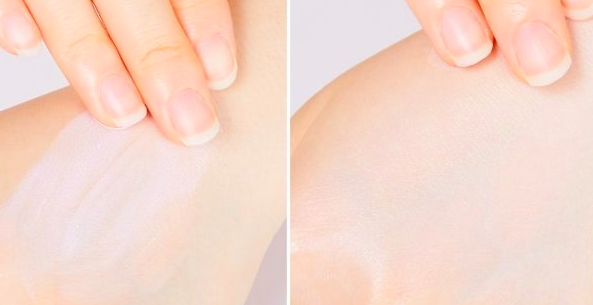 Worried about dryness, but want to prevent shiny and makeup from collapsing?
MAQuillAGE Dramatic Skin Sensor Base EX TONE UP UV+ SPF50+ is a tinted Japanese makeup base milk that keeps makeup fresh all day. The liquid primer is newly upgraded with maximum UV protection to better protect skin with its mattifying properties. It features "skin sensor" technology that not only absorbs sweat and sebum but also releases moisture when the humidity is low, to keep skin looking beautiful and radiant all day. It has a trinity magnet effect by binding skin, primer and foundation together as one to keep makeup looking fresh while preventing it from rubbing off on the mask for up to 13 hours.
How to use
Shake before use. After conditioning the skin with skin care, take an appropriate amount on the palm and evenly apply it to the entire face before makeup.
Users' voice
Become brighter.
Very easy to extend and brightens the makeup look.
I think it's good!
It adheres snuggly and seems to be more naturally glossy and brighter when extended with a sponge.
Exactly!
This product looked the brightest when I used it because I was worried about dullness. I'm worried about sunburn this season, so I use it as a base because it's UV plus.
The perfect item for people who want to make their skin look bright and beautiful!
With this MAQuillAGE Dramatic Skin Sensor Base EX TONE UP UV+ SPF50+, you can easily increase the transparency of your makeup look. Simply place an order and try it for yourself!
For more product details, please check out at Discovery Japan Mall .
Click below to place an order while your mind is on it. It is easy to order. Remaining inventory is still available.
If it is out of stock, please wait for restock patiently.
Commission :

220

Yen (5%)

Price : 4,418 Yen

(Price may be changed according to the market conditions or other circumstances.)



Affiliate Promotion Link :
https://partner.discovery-japan.me/products/?affID=

XXXXXXX

&pid=50687
Please replace

XXXXXXX

to your real affiliate ID. You can see your affiliate ID after login.